Innovation and Emerging Markets - Braintree Communications
Published by: Wrightbooks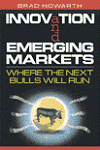 One of the more prominent members of the new crop is Queensland-based company Braintree Communications (www.braintree.com.au), which develops its own protocol conversion technology to allow older communications systems to easily operate with new systems.
Braintree began life in 1988 and, like any microelectronics developers, it started as a consulting partnership. Based in Melbourne, its primary work was in assisting companies with the installation of banking communications systems, such as the new EFTPOS networks. In 1990 the two founders, engineers Peter mason (now chief technology officer) and Colin Stevenson, relocated the company to Brisbane.
During the 1990s the company developed numerous products, generally for its own use. Its first was a network card that enabled the conversion of various networking protocols into the X.25 standard that was then used in the banking industry. This card allowed multiple systems to communicate with each other. It was released in 1992, and proved popular in other industries, such as travel and telecommunications.
It wasn't until 1998, when Telstra issued a tender for an upgrade of its ageing analogue electronic funds transfer (EFT) network to digital technologies, that Braintree got serious about commercialisation. The upgrade would require EFT users, such as shops and service stations, to purchase new hardware to connect t the EFT network, and Telstra tender called for a device that could handle this requirement.
Braintree won the tender with the design for a world-first integrated system that would allow EFT and other data transactions to be transmitted over the ISDN network. Dubbed the Argent Terminal Adaptor, this device became Braintree's first wide-scale commercial product.
In October 2000 the founders recruited Peter Hall, a former Queensland government adviser with ten years experience in capital raising, change management and marketing, as chief operating officer, and charged him with the task of assisting Braintree's ongoing commercialisation. In July 2003 Hall was promoted to chief executive officer.
While Braintree has been growing strongly, Hall says that it has suffered as a result of not moving to commercialise its products earlier, a factor he attributes to a lack of capital and experience, and the company's own conservative approach to growth through internal cash flows.
"There was a failure to capitalise in the core assets of the business, and it wasn't until this was realised that anything was done to fix it, Hall says. "The change process for a founder is difficult, usually due to a lack of knowledge and experience, and often a feeling of being overwhelmed by the process."
"A significant factor in overcoming these hurdles is meeting and swapping war stories with founders who have been there and done it. Usually there is a realisation from the founders that they are good at what they do, butt hey need a team to get all the skills and experience to create real wealth before the markets passes them over."
"And now we're starting to build a team. We're getting internal accounting expertise and administrative control, and building key relationships with major customers."
In July 2002 Braintree appointed Ian Sanford as chairman, and he brought 33 years o senior management experience to the company. In August it added the business recovery expert Sarah Merridew as a non-executive director.
Braintree's customer list includes Telstra and Boeing, and Hall says the company is looking at expanding overseas. He has been pursuing opportunities in London to access European markets, as well as pushing further into the Australian defence industry. Hall says a common theme within Braintree has been finding a market niche and developing technology for it, then using the technology it has developed to gain access to other niches.
Hall says Braintree can demonstrate cost reductions to service providers, telecommunications and end users.
"Unless all of these parties can get something measurable from it, then the business case wont work. And that's why we focus on being very close to the end user."
At a corporate level Hall intends to continue growing the business using internal revenue for the next three to five years, after which the company will most likely go to public float. Hall says Braintree has been investigating venture capital options, but the company's long history of profitability means it is also open to debt funding. Braintree has been funded from its own revenue since inception.
Braintree has also successfully used partners to expand it local sales efforts. Although Braintree's primary customers are telecommunications carriers, it has also worked hard to get to know the needs of their clients. It now has relationships, with St George Bank and the grocery retail group Metcash, which have given Braintree insight into the challenges facing the end users of its core products. Braintree will begin selling support services to Metcash customers in 2003.