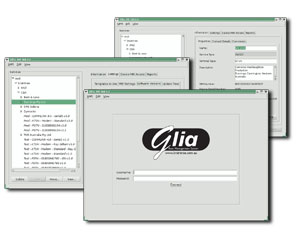 Braintree's Network Management System, the Glia, is designed to complement Braintree's range of Network Gateways. The Glia allows for simple installation, configuration and management of the entire population of gateways on a customers network. The Glia provides an enhanced and simplified network management tool that enables automated installation and configuration for new and existing connections, a high level of network security and a sophisticated and detailed reporting mechanism.

Key features and benefits:

1. Enhanced and Simplified Network Management
a. The interface is simple to use, intuitive and useful, reducing the extent of training required.
b. Time spent in network management and maintenance is kept to a minimum.
c. Network management is based on selection criteria of all network gateways, groups of gateways or an individual gateway's on the network. A typical group could be a chain of the same store (franchise).
d. Network managed products maintain a high level of confidence in that product and network from the end user.
2. Automated Installation and Configuration
a. Installation can be automated, minimising the cost of a site visit, training and unnecessary remedial action.
b. Gateway configuration can be automatically initialised when the installer attaches the gateway to the network.
c. Live updates and software downloads can be automated for both new installations and devices that are moved to new sites. Updates and downloads can be deployed based on individual gateways, groups or the entire network.
3. High Level of Network Security
a. A secure access interface is provided via Security Service Layer (SSL) or Access Control (Username and Password) methods. These methods provide the network administrator with a secure access point to the network.
b. Access control - viewing or administration. Security can be applied to ensure that only staff with access to the system is able to control the Glia. Staff can be allocated varying security access levels to administer changes. This feature enhances quality control and network security.
c. End Customers can have access to viewable information about their particular gateway.
d. If the Gateway is unavailable for an extended period of time the service can be disabled. The NMS provides automated detection of end of service, loss or theft detection.
e. Gateway tracking - enables monitoring of the movement of gateways.
4. Sophisticated and Detailed Reporting Tools
a. Reporting can be based on individual devices or groups, traffic (bytes/packets), errors and new initialisations,
b. Problem detection features can pin point network problems in the gateway, EFTPOS connection, EFTPOS device, network or host.
c. Diagnostics rich in information helps produce fast resolution to customer problems